1. Mark Zuckerburg:
Everyone knows the college dropout slash Facebook founder, who gives professionalism a run for it's money by attending most of the public events in a hoodie and track pants. This is what his business card looks like. We wholeheartedly approve of this!
2. Evan Williams:
How can you talk of Social Media and not mention Twitter?
Even though Evan Williams stepped down as the CEO of Twitter sometimes back to concentrate more on the product strategy, it won't be a bad idea to take a look at his crisp and neat business card, with no 'bitch' in sight anywhere.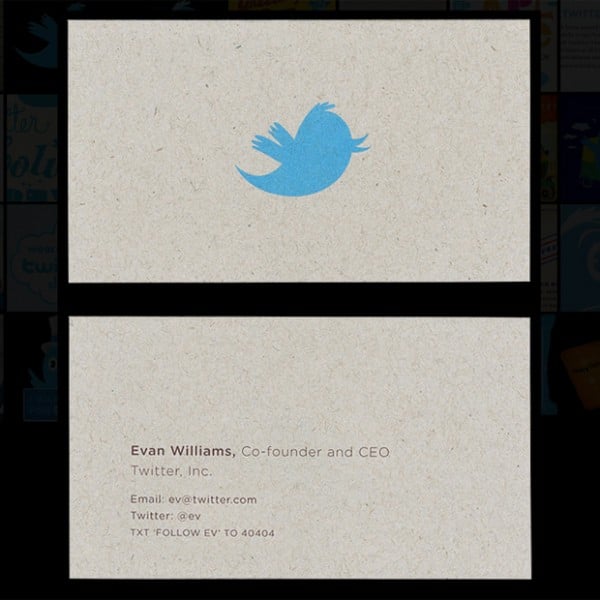 3.  Steve Jobs:
The very famous CEO of Apple, who is world-wide recognized for changing the way people use smart-phones and let's face it – was kind of a big deal has a very ordinary looking business card. Nothing flashy at all.

4. Albert Einstein: 
Turns out the famous professor of physics and the inventor of E=mc(square), has a business card that so does not go with his hair-do.  We were expecting something more goofy, maybe? Maybe, he should have met Zuckerburg to jazz his game up!
5. Neil Armstrong:
A little fun fact for you guys: Neil Armstrong, the first man to land on the moon in 1969, served as the Chairman for Computing Tecnologies for Aviation Inc, in Charlottesville. This is what his business card looked like during his tenure.

6. Larry Page
The CEO of the largest and the most used search engine in the world, comes with a business card with a shiny Google logo as the header.  
7. Bill Gates:
The former Chief Executive and Chairman of one of the largest software companies – Microsoft, Bill gates used to have  a very cheerful looking orange business card. We totally dig whatever that font has going on for itself!
8. Walt Disney:
We're completely blown away by the amount of raw creativity Walt Disney has cared to put into his card. He started out as cartoonist, but went on to become the founder of the very successful Walt Disney franchise, fulfilling roles of producer, director, screenwriter, voice artist and more.
You might also like:
9 Internet giants on their first day | You won't believe how some of these looked like!
Comments
comments