1. Indian Institute Of Science, Bangalore.
The sprawling green campus established in 1899 is at an altitude of 942 m, the highest point in Bangalore.
The campus features six canteens (cafeterias), a gymkhana (gymnasium and sports complex), a football and a cricket ground, four dining messes (halls), one multi-cuisine family restaurant, nine men's and five women's hostels (dormitories), an air strip, a library, two shopping centers and residence areas for faculties and other staff members, besides other amenities. The IISc campus harbors both exotic and indigenous plant species with about 110 species of woody plants.
2. Indian Institute Of Technology, Guwahati.
The scenic beauty of IITG lies on the northern banks of Brahmaputra. The campus lies on a vast land on 700 acres (2.8 kms2) around 20 km away from the heart of the city. It has the Brahmaputra on one side and hills and vast lands on the other. This beauty caged in those boundary walls will surely allure with its methodical patches of greenery and well organized lanes.
3. Indian Institute Of Technology, Madras.
The Indian Institute of Technology Madras was inaugurated in 1959 and is located in a wooded land. The campus has around 100 labs. The campus is spread over 250 hectares of lush green forest. The Institute in itself is located around 2.5 km inside the campus.
The 600 acre lush green campus is somewhat like a tropical evergreen forest and is just the right place for a nature lover to reside.  IIT, Madras campus is home to a wide variety of animals and wildlife, especially the blackbuck.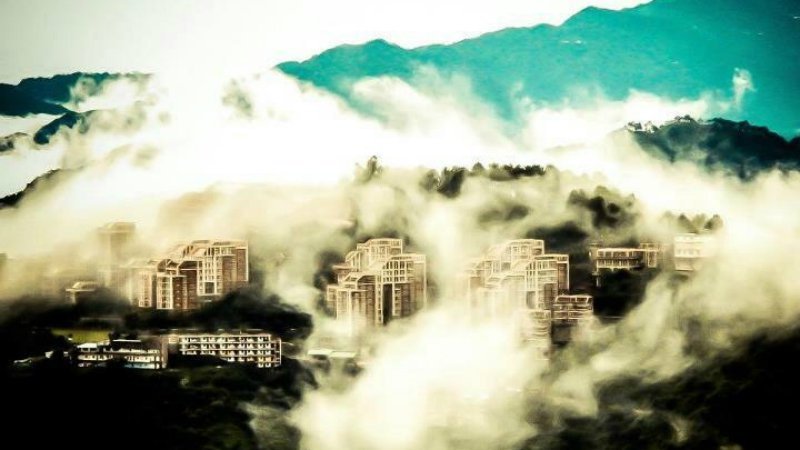 4. Jaypee University Of Information Technology, Himachal Pradesh.
The university campus is spread over 25 acres (100,000 m2) of the green picaresque slopes of Watchmaking. Far on the hill, the town of Kasauli can be seen from the campus.
The campus rests between the tall mountains of Himachal. The ravishing campus of the university is encircled by the pine & deodar trees create a beautiful ambience for learning. One surely feels like wrapped up in white satin sheet with beauty all around to quench your soul.
5. National Institute of Technology, Srinagar.

The divine campus of this nit is situated in Hazratbal, Srinagar. It is located on the western bank of the world heritage site, Dal Lake.
Having the campus situated in the Kashmir valley, surrounded by scenic Himalayan Ranges, is an exquisite experience. They call it 'Heaven On Earth'. Need I say more?
6. Birla Institute Of Technology And Science, Pilani, Hyderabad.
Located in Shamirpet, BITS Pilani's Hyderabad Campus is far disconnected from the major urban areas of Hyderabad. There's wilderness around, with the terrain consisting of hillock, compels anyone to lose itself to its beauty.
The choice of location of the campus in unique with respect to its spectacular beauty and panoramic view of picturesque, covered with wooden paths and spread over a vast area of  328 acres. Once inside the campus, there are enough sign boards to guide you to the college. And if you lose track of where you are, all you can do is hope find a villager around to guide you around.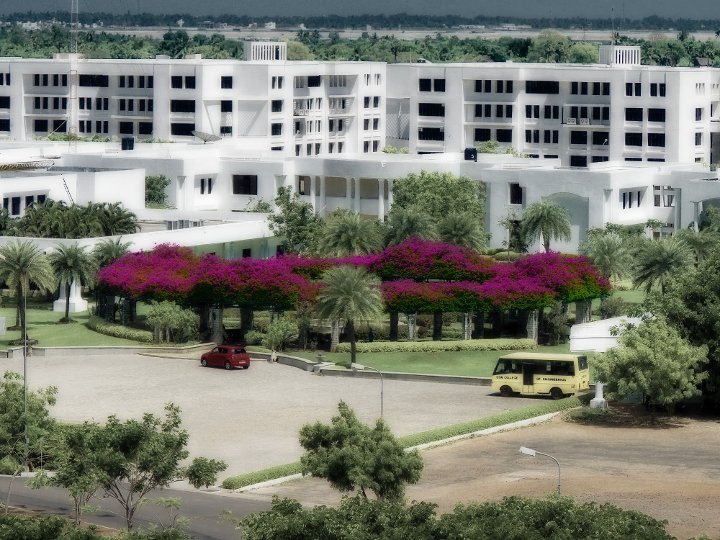 7. Sri Sivasubramaniya Nadir College Of Engineering, Chennai.
SSN has always been the preferred destination for aspiring engineers and managers. It spread across 250 acres of land.
This state of art campus is not any beach or holiday destination, but the lush greenery will take your breath away. They call it 'an oasis in the dessert'.
8. Govind Ballabh Pant Engineering College, Pauri Garhwal.
GBPEC covers an area of around 2 acres in Okhla Industrial Area,Delhi on the sidelines of Aravalli Hills. It was established in 1989 by the Government of Uttar Pradesh.
It is located in a beautiful mountainous region of the Himalayas, Uttarakhand. Located in the Garhwal Himalayas, 7000 ft. above the sea level the campus has quiet, congenial, hilly and pollution-free environment which surely feels like a paradise.
9. National Institute Of Technology, Karnataka.
This NIT campus of 295 acres is situated by shores of Arabian Sea.
It has its own beach with an adjoining Light house. What else do you need? The students and staff spend mesmerising moments here and gleefully watch the sunset. Killer, isn't it?
10. Indian Institute Of Technology, Indore.
And last but the least, IIT, Indore's permanent campus is spread over an area of about 510 acre at Simrol, about 25 kms away from the city. It is a latest edition to the list of college and is expected to be fully constructed on its own land by the end of this year.
Sitting atop a hillock on the outskirts of Indore, the beautiful campus is aptly nicknamed "The hillock that never sleeps". The Sun-Set Point in campus provides a spectacular view of the evening sky as well as the skyline of the Indore city at night.
This article has been adapted from our content partner Fuccha.in.

Comments
comments