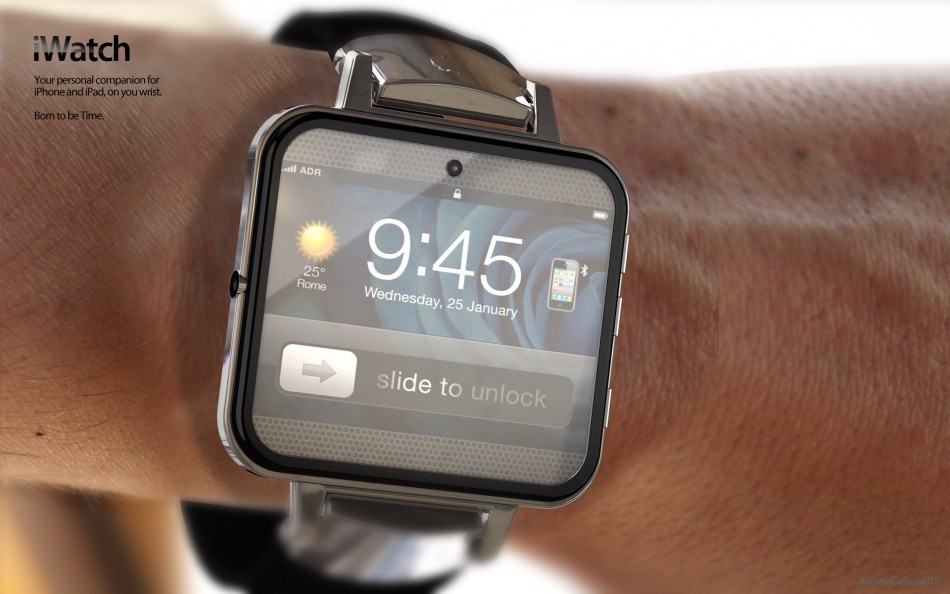 "Apple Watch is designed to be worn during all your daily activities, from morning workouts to nights out." Says Apple about its latest product release alongside the iPhone 6 and iPhone 6 Plus.
Here are 10 things you should know about the Apple Watch:
1) Well, quite obviously, it works only with iPhones- iPhone 5, iPhone 5c, iPhone 5s, iPhone 6 and iPhone 6 Plus. No iPads.
10 things you need to know about the new Apple iPhone 6.
2)  Apple invited fashion bloggers to the unveiling of the iPhone 6 and Apple Watch, and there is a very good reason for it. Apple CEO, Tim Cook admitted that they thought about the look of the Watch for a long time, as they want it to be more than a high-tech geeky watch, hence the iWatch is rather good looking, sleeker than it's competitors, has a smooth mirror finish and a distinctive black steel shine.
3)  There is a choice of three different leather bands, a link bracelet, a Milanese loop, and a band made from high-performance fluoroelastomer.
They have colors and varieties in these categories. This variety of bands makes the Watch highly customizable, suiting looks ranging from formal to sporty to dressy.

4) You can reply to messages via dictation or an animated emoji. It can also send automatically generated responses, for which it gives you options based on the content of the message. It can also be used as a walkie-talkie to communicate with other Apple Watch users. You can also draw small pictures and send them to Watch users. To demonstrate this, during the presentation, Apple's VP, Technology – Kevin Lynch sent a drawing of a fish to a friend to ask him if he wanted to get sushi for lunch. That's not all. You can also send your tracked heartbeat to a friend. Cool, innit?
5) Apple is calling the Watch a comprehensive health and fitness device. Well, maybe it is! It can count the calories burned, track your heartbeat and count your steps and how much activity you've done throughout the day. It is designed to learn about the wearer and suggest fitness goals. The information on the Watch syncs with the app on the iPhone, helping you keep track of your progress.
6) Apple Watch has a new notification system – it has its own vibration code. It will vibrate to alert you about a notification, following which, you can raise your wrist to turn on the screen to take a look at said notification. This is not only a battery saving trick, but also allows navigation without talking or even looking at the iWatch. With the use of vibrations to get the message across, one type of vibration will mean left, while the other means right.
15 things you didn't know about Steve Jobs.
7) Even thought the whole idea of iWatch is to reduce the screen-sharing time, you still have Siri at your service when you need to know about the weather or need help locating a nearby business. You can also make use of voice commands to get things done. If this wasn't enough, iWatch also comes with a crown on the side, just like the ones you use to change the date and time in regular watches, only their function here is slightly different. You can use the crowns to scroll up-down and zoom into a map. For everything else, you can touch the screen.

8) Apple unveiled the Apple Pay facility alongside the iPhone 6 and the Apple Watch. It's the "Wallet, without the wallet." All the facilities of Apple Pay will be available on the Watch. So, gone are the days of searching for the right card in your wallet, a single click can make your payment easier than ever.
Internships @ Apple.Inc | Where iPhones, iOs and Steve Jobs happened.
You can enter your card details with Apple Pay, or click a picture of your card. Once the verification is done, you can use your iWatch for payment. by holding it up at the counter for the reader to read. You then use your fingerprint to confirm payment.
The best thing is your ID, card details and password aren't saved anywhere on the server to avoid fraud. So far Apple Pay works for Visa, MasterCard and American Express. Many big companies like McDonald's, Disney and Subway have welcomes this new technology.
9) With the launch of the Watch introduced were apps like Twitter, Nike, Pinterest, Music, Photos and airline notifications. If you have a BMW, it can tell you where it is, and thanks to Apple's collaborations with the Starwood Hotels, it can also unlock your room door. Oh, and there are the wide array fitness apps. Watch out for more apps which will be introduced as a result of the new partnerships that Apple plans to make just for iWatch.

10) Oh, and it also tells the time, if you didn't figure that out already. Cook bragged to his audience on Tuesday that the timepiece will be accurate within 50 milliseconds.
11) The Apple Watch will be available in India in 2015, with the date not yet specified. The price range is expected to be around 25000-30000 INR.
You might also like:
10 things you didn't know about 2048!
14 cool things you didn't know about Facebook and the man who created it!
Google to acquire Skybox Imaging for $500 Million | 7 things you didn't know about Google's newest baby!
Comments
comments